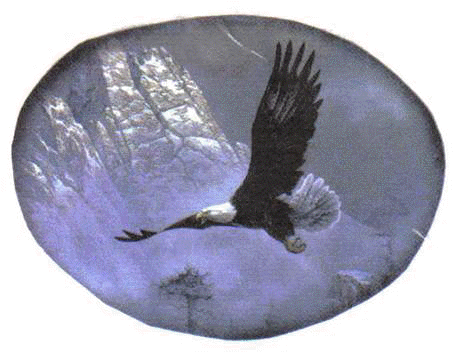 The Kid's Corner!!!
Hi!
This is our Kids page and it is for kids that come to our website to. I will put some teachings and other fun things on for you. If you need prayer, or any help, you can either come to our chat site, leave a note in our guestbook, or email me at: rnjohnsfam@hotmail.com. If you do not have email, you can write me a letter and send it to Noelle at The Kid's Corner; 2910 Douglas Rd.; Cortland, NY 13045 I will be more than glad to help you! Have a great day in the Lord!
Remember that I am here to help you! If you need any help whatsoever please write your request in our guest book, or you can write me with the addresses on this web page and I will answer you. Together we will get your answers and see the victory God has given to us every time. Remember that I am here to help you. I love all of you and I want to be here just for you. So please come and let's see the victories come that you need.
This weeks lesson is:
Let the Lord direct your steps!
God's Way is the Best Way!

Proverbs 16:9 KJV
A man's heart deviseth (plans) his way: but the Lord directeth his steps.
Proverbs 16:9 AMP
A man's mind plans his way [as he journeys through life], But the LORD directs his steps and establishes them.

This verse is very explanitory. We make plans and the Lord directs our steps. God knows the best way to direct our steps in the right direction.

2 Samuel 22:31 KJV
As for God, his way is perfect; the word of the Lord is tried: he is a buckler to all them that trust in him.

2 Samuel 22:29,31 AMP
"For You, O LORD, are my lamp; The LORD illumines and dispels my darkness. [31] "As for God, His way is blameless and perfect; The word of the LORD is tested. He is a shield to all those who take refuge and trust in Him.

The Lord is our Lamp! He illuminates all the darkness. We all know that in the dark you can't walk efficiently. But, when you shine a light you can see clearly where you are going. Darkness can't stay when you have light and the brighter the light the more darkness disappears!
There is no better path to take. God's way is the best way!

Psalm 7:1 KJV
O Lord my God, in thee do I put my trust: save me from all them that persecute me, and deliver me:
Psalm 71:5 KJV
For thou art my hope, O Lord God : thou art my trust from my youth.
You know that David trusted God even when he was a youth. That is how David defeated Goliath and how he killed a lion and bear while watching sheep.

Psalm 9:10 KJV
And they that know thy name will put their trust in thee: for thou, Lord, hast not forsaken them that seek thee.
Psalm 18:2 KJV
The Lord is my rock, and my fortress, and my deliverer; my God, my strength, in whom I will trust; my buckler, and the horn of my salvation, and my high tower.

Psalm 18:30 KJV
As for God, his way is perfect: the word of the Lord is tried: he is a buckler to all those that trust in him.

Psalm 34:8 KJV
O taste and see that the Lord is good: blessed is the man that trusteth in him.

Psalm 37:4-5 KJV
Delight thyself also in the Lord ; and he shall give thee the desires of thine heart. [5] Commit thy way unto the Lord ; trust also in him; and he shall bring it to pass.

Psalm 71:1 KJV
In thee, O Lord, do I put my trust: let me never be put to confusion.


Psalm 73:28 KJV
But it is good for me to draw near to God: I have put my trust in the Lord God, that I may declare all thy works.

Psalm 118:8 KJV
It is better to trust in the Lord than to put confidence in man.


Proverbs 3:5-6 KJV
Trust in the Lord with all thine heart; and lean not unto thine own understanding. [6] In all thy ways acknowledge him, and he shall direct thy paths.

Psalm 119:105 KJV
Thy word is a lamp unto my feet, and a light unto my path.

Isaiah 55:8-9 AMP
"For My thoughts are not your thoughts, Nor are your ways My ways," declares the LORD. [9] "For as the heavens are higher than the earth, So are My ways higher than your ways And My thoughts higher than your thoughts.

God's Word is a lamp unto our feet! It lights our path so we can see clearly!
Let God direct your steps!
See you next week! Love Noelle
[Previous Kid's Bible Studies Pg 2]
[Previous Kid's Bible Studies Pg 3]
[Previous Kid's Bible Studies Pg 4]
[Previous Kid's Bible Studies Pg 5]
[Previous Kid's Bible Studies Pg 6]